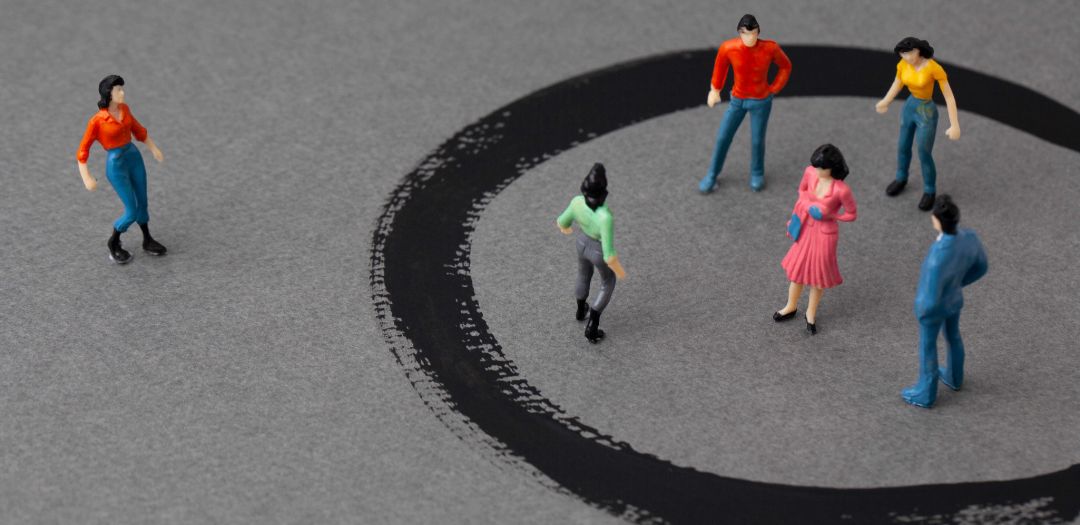 Working on the Fringe:
Why tapping into the alternative culture will boost your company image
Perfection is the exact definition of imperfect in today's marketing paradigm – at least if you want your brand to seem relevant and current. It seems ironic to think that joining the mainstream bandwagon would in fact make your brand seem uncool or 'out of touch', but the true reality is, brands who are in line with the social trends of today, know that diving into a pool of mainstream marketing fads is so yesterday.
Let me explain, using a very imperfect, on the fringe, totally self-drawn diagram.
Everything in the middle circle is now considered socially uncool or irresponsible. Brand's that are looking to showcase wealth, status, and unattainable perfection are no longer going to appeal to wider audiences (but rather to a very small niche of individuals). This is because in today's modern age, people want to associate themselves with unique, genuine, and responsible brands, which represent diversity, equality, and ethical and sustainable practice.
That is why working on the fringe is the new popular.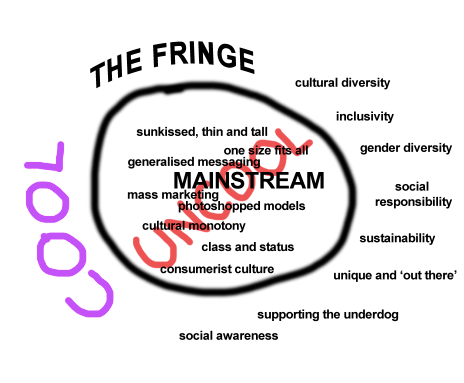 If brands want to connect with their audiences they have to do so in authentic ways, and in order to do that, they need to speak the language of their consumers.
If brands want to connect with their audiences they have to do so in authentic ways, and in order to do that, they need to speak the language of their consumers.
Today's customer is well informed, socially conscious, politically correct, and environmentally aware. They want to see fair representation in the marketing and advertising of a brand's image. Consumer nature is now the exact antithesis of the word consumerism. It's about ethical purchasing, organic production, responsible manufacturing, and association with brands who don't care about being cool (which is exactly what makes them cool).
So how does a brand go about not being cool, in order to be cool?
By creating campaigns that are socially responsible.
By working with ambassadors and collaborating with other businesses that are genuine and represent equality, diversity, authenticity and sustainability.
By executing initiatives that aren't only about the bottom dollar.
By associating their brands with good environmental practices.
By giving back to the community without expecting to receive in return.
By being different, and being ok with being different.
Take a look at your current marketing efforts, and see how they align with the above principles. If you are trying to target a wide market, and find that there are certain things you do that are stale, don't represent a greater community, or are not genuine in their intention or messaging, its time to cut out the dead weight and make space for new marketing. It will help improve your brand image in the long run, and give your brand the new wind it needs, to pick up and thrive in the current consumer landscape.
Little side note to get you started.
If you aren't sure where to start, platforms like PR Galleria and PRO Galleria have a huge pool of ethnically/socially/culturally diverse influencers and creative professionals that you can tap into.
If you are looking to promote your product and brand on various social platforms, PR Galleria is a great way to engage with a wide range of genuine influencers, that come from different worlds and with different life experiences. By sampling your products to influencers who operate on the fringe, and have authentic followings, you create genuine connections with their audiences through their content. 
If you've got some other marketing ideas in mind, and need to tap into some awesome manpower and professional resources, PRO Galleria is the place to peruse.
Need more help? The team at the Gap Agency are well versed in the art of socially responsible marketing, and are happy to give you some helpful advice on the house.