Use PR Galleria in 4 Easy Steps
---
PR Galleria is designed to streamline the way you, as an exclusive member, interact with brands, request for their products and experiences. With just a few clicks, you can find yourself experiencing the latest in beauty and fashion, a free night out at a restaurant, testing the latest tech, or attending mind-blowing events through your Active Offers.
Step 1. First you need to Login
You cannot view product offers without logging. Go to: https://prgalleria.com/my-account/ and login with your credentials. Often your login and password can be found in our newsletter emailed to you.
Step 2. My Active Offers
As you log in to the PR Galleria platform, the 'My Active Offers' page is where you will find a gallery of samples and experiences currently available for you. Our offers are FREE to you but we also include the value of the offer, to help you decide if it would be practical or aspirational for your audience. When something is of interest, click through to the sample's page to learn more and request the item.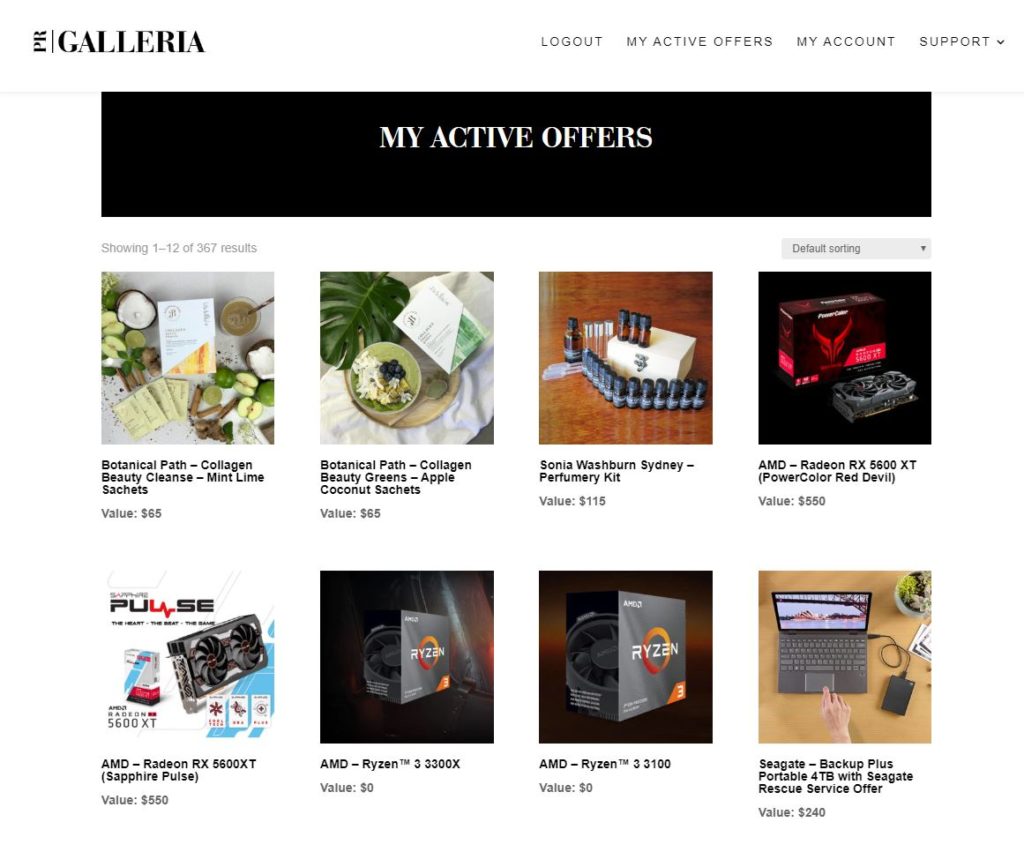 Step 3. Requesting Items and Your Commitment
You know what you are passionate about and what appeals to your audience more than we ever could. If you like an offer on PR Galleria, all you need to do is tell us how you will share it. These form part of your obligations and commitment upon receiving the sample. Then simply click 'Request Item'. That's it!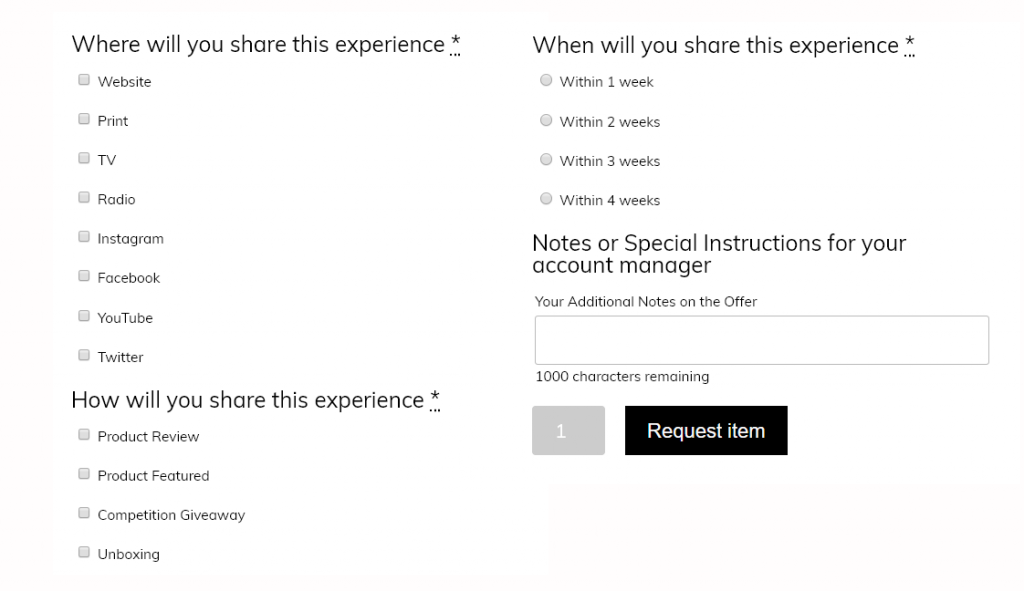 Step 4. Confirm Your Contact Details
Once you put in a Request, you will be taken to the final order confirmation page to make sure your email and delivery address are current. This part is important because if you are receiving a physical product we will instruct our delivery company to deliver to the address you provided. This page also summarises your commitments upon receiving the sample. When you're good to go, click on 'Confirm Request' and our team will begin to fulfill your request.
What Happens Next
Every time you submit a request, we get excited! You will also receive an email notification detailing your requested items and commitments. Often we will have the sample available and ready to send to you. You will be notified along the way and your assigned account manager will also be on hand to answer your questions. We look forward to you sharing the experience to audience!
Be sure to check out our FAQ Page to learn more about PR Galleria.