BMW has widened the appeal of the latest 1 Series using technology and a more cohesive design to the previous generation. Many buyers will be new to the 1 series and the BMW brand. Technology and design are the main features that will attract them to purchase one as much as the performance and driving dynamics. In fact, a lot of new cars are marketed just on technology. Brands like Tesla, Mercedes Benz, Audi, Kia, Hyundai, Land Rover, and Toyota are projecting a technology-driven brand image.
The baby 2020 BMW M135i xDrive is no exception. It has amazing tech that is often overlooked by online reviews that unfortunately debated too much on the previous model's 6 cylinder to the current 4 cylinder offering, the 0-100km/h sprint and front vs rear vs all wheel drive  – all this to see if it can drift a corner. We see a disconnect between the real buyers of the BMW M135i and some online reviews who stick to the purist angle.
Putting the enthusiast angle aside, we wished online reviews looked at "The One" from a technology and design standpoint. And yes, we will argue that the 2020 BMW M135i xDrive as a performance car can stand on its own purely on technology and design.
Car technology is a topic that is moving very fast, and a topic not given enough playtime in car reviews. While Tesla is an obvious example of how technology drives buyers to their showrooms or online, other brands are missing the mark in sending their press cars for reviews. A quick search on reviews for the BMW M135i, shows the technology aspect is often overlooked. Yet new car owners are aware they will spend 90% of their time using the car's technology and creature comforts than find the opportunity to sprint 0-100 km/h in 4.8 secs in the suburbs. We believe technology forms as much bragging rights as engine performance.
Think for a moment, would you buy a 2020 BMW M135i xDrive without Apple Carplay, Android Auto or BMW's latest iDrive 7.0? This debate can only grow as more cars come into the market with a strong technology play.
An even harder topic is car design which very few reviews pay attention to. Just like any form of art, interpretation is going to be subjective. Car manufacturers are always pushing the limits to a bold design language that speaks to prospective buyers. Online reviews might call BMW's latest designs "polarising", car brands call it segmenting.
A video interpreting the 2020 BMW M135i xDrive's design is in the works. For now, let's have some fun and shed some LED lights on how the 2020 BMW M135i xDrive could have been viewed from a technology angle.
The whole car feels like one big tech gadget.
Intricate Day Time Running Lights
Let's admit it, when the Daytime Running Lights come on, an owner's pride also glows even before the engine starts.  BMW's headlights adapt around corners or on high beam.
While where are at it.
Check out the LED lights at the rear. It speaks of being tech-savvy with a mean streak, design to make anyone look tough.
Extra lights that are Extra
Just like any smart gadget, we are attracted to car lights and how it looks in evenings. BMW has put extra efforts on welcome lights and simply how the car looks great after dark.
Wireless Apple Car Play
We like Apple Car play even more when no cables are needed to connect. BMW uses Wireless Car Play and integrates amazingly well with iDrive 7.0 menus, heads up display and voice commands.
Let's sign in.

Owners are treated with a digital instrument cluster, large 10″ full screen, ambient lighting, and shortcut buttons that are "lit". More reviews should feature how amazing cars look at night.
Powered tailgate for small cars?
Powered tailgates are common among SUVs but not in small hatches. They are not necessary for a small car. Yet when a small car gets a powered tailgate, you know you're rolling with the big boys.
The 4 ways to Unlock and Start the EngineAdd Your Heading Text Here
Using a the Key Fob
Not your average key fob, the BMW keys store your personal profile. Settings like seat position, mirrors, favourite radio and AC settings are set when you unlock the car.
Using a Digital Key
Going to the beach or a hike? Scared of losing your phone or keys or get them wet? A BMW digital key unlocks and starts the car. It is waterproof, drop proof and replaceable.
Using a Smartphone

Using a compatible Android phone with Near Field Communication (NFC) tech unlocks the BMW M135i. Place the phone in the wireless charger to start the engine.
Using the Connected App

Tap on the unlock or lock buttons anywhere in the world. Right now the BMW M135i cannot be started using the App but there is news out that BMW is working on an update.
How the BMW iDrive 7.0 works with the Connected Drive App and Packages.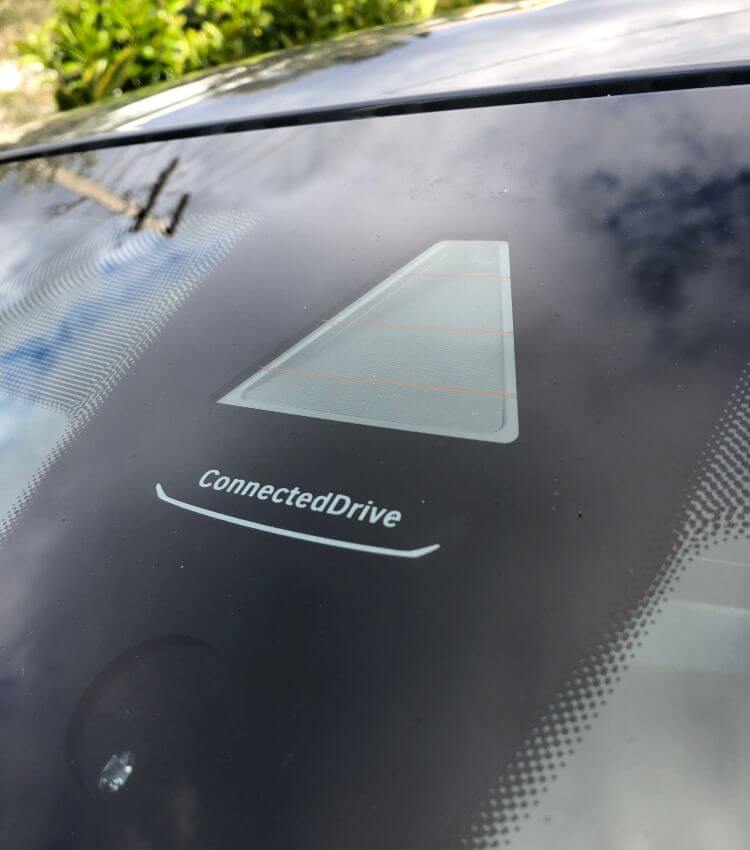 BMW's Connected Drive brings together the BMW iDrive 7 infotainment with Connected Drive App, and the Connected Drive Packages, all secured under the owner's account tied to the vehicle's identification number (VIN). Connected Drive sends and receives commands for the car from the internet or smartphone through BMW's headquarters.
The App allows you to Lock, Unlock the car, flash its headlights, and schedule to ventilate the car on a hot day. Through the app, punch in a destination and send it to the car where the iDrive 7 stores the destination into the navigation. Live traffic updates are also sent to the car's navigation.
You can also monitor the car's data including its current location, fuel level, range, any doors or windows open, current mileage, and more. Also using the app, you can call for roadside assistance for breakdowns or accidents. You can even import your calendar through Microsoft Office subscriptions as part of the BMW iDrive 7 apps.
Closer look at the BMW Connected Drive App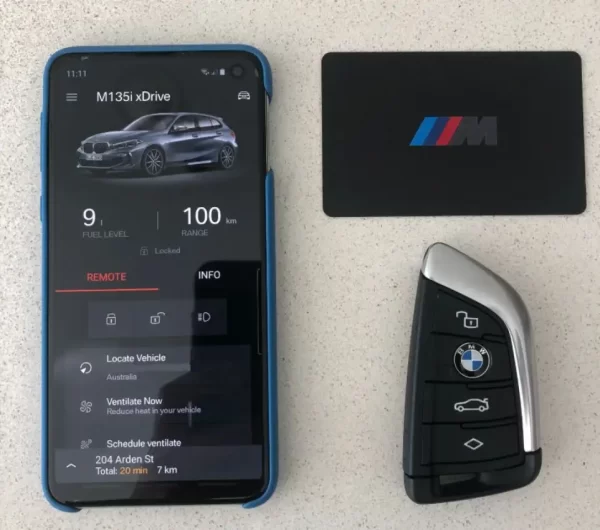 Still within the Connected Drive and iDrive 7.0 ecosytem, access to the car is secured around the owner's verified account from BMW. Once an owner's account and password are registered with BMW, the owner can allocate or remove additional digital keys using this account within the iDrive system.
With the more traditional key fob and concerns of thieves stealing modern cars using a signal booster to trick the car into thinking the key is close by, BMW's key fob does not emit signal unless it is in motion.
Is the car missing anyway? Pinpoint it using the app. If you suspect it's not your teenager going for a joy ride, we recommend sharing the location with the police.
What else we liked about the BMW iDrive 7.0
Driving Information Teaches Driving Dynamics.

We liked how the Driving Information displays make journeys engaging and informative. There is the Sport Display which shows how many Gs you are pulling, Kw and Torque as well as the Turbo bar and Oil temperatures. Like a video game really. The Journey Data shows how the car is driven using fuel consumption, time spent in stop and go function, and distance traveled coasting. Values are presented graphically in Sport, Eco, and Comfort driving modes. Then there is the Energy Flow display. Since the BMW M135i is an all wheel drive system, this display mode shows whether torque is sent through the front and/or rear wheels using cool animations.
We talk to our smartphones, Google, Siri or Alexa smart assistants. Now BMW will get us into the habit of talking to cars more.
Say "Hey BMW I'm Tired": turns up and down fan speed, turns down temperature, lively music and opens the panoramic roof to wake you up.
"Let's Go Home": replies with "ok let's go home" in a lovely English accent.
"I'm sleepy" – turns on vitalise mode.
"I'm bored" turns on Sports Display Mode – how much Gs you are pulling, Kw and Torque as well as the Turbo bar and Oil temperatures. Like a video game really.
"Find me the nearest petrol station" – after you used up all that petrol in sports mode.
"Turn on Carplay" – switches to Wireless Carplay.
"Turn interior lighting to Green" – changes ambient lighting to green or a choice of other colours.
There is no doubt the 2020 BMW M135i xDrive is fast, handles corners with ease, has an aggressive stance with distinctive M sport spoilers, rear diffusers, unique front air intakes, and great seats. We certainly enjoy the performance and driving dynamics of the M135i xDrive. This has been covered immensely by online reviews. But we believe the BMW M135i was easily overlooked from a technology and design angle. Perhaps it should be reviewed more by a tech journalist or a design expert to interpret the overall package BMW is trying to offer in this baby rocket.

Watch out for our next video on how the BMW should be viewed from a design perspective. Yes, we also like the sounds of a good exhaust note and decent acceleration.